Follow us on Instagram @morpheustheatreyyc, find us on Facebook, and tweet us at @MorpheusTheatre. Or, visit us at the Morpheus Rehearsal Centre, where we are excited to present new improvements to our Boardroom and Volunteer Lounge.  Come check it out!

Announcing our 24th Season of Shows Worth Seeing!
We will be announcing our 24th Season on April 27th – opening night of HMS Pinafore! Join us for the excitement of a new show opening and a new season!  Season tickets packages will be available for purchase at the theatre, and our Early Bird discount is available until June 30th!  Don't miss out!
---
UPCOMING EVENTS!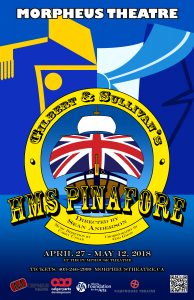 April 21 – Intro to the Director's Process with Valerie Planche –  Join us in a workshop for beginners, practicing and experienced Directors to explore the nuts-and-bolts of inspiring actors to become co-creators in the storytelling process.
April 27, 7:30 pm – Announcement of 2018/2019 Season of SHOWS WORTH SEEING!
April 27 – May 12 – HMS PINAFORE – A musical farce, and a beloved favourite of the creative team, Gilbert and Sullivan, HMS Pinafore is a love story, a lesson in rank and the proper ways of things, as well as how to stand up for the desires of the heart!  
Buy tickets HERE! FOH Spots still available HERE.
May 4 – 6 – Weekend Shakespeare Intensive with Iam Coulter – Whether you are well-versed in Shakespeare performance or a relative newcomer, this weekend will expand your understanding, deepen your personal connection to text, inspire your imagination and sharpen your skill set.
May 7 – 8 – G&S JR: HMS PINAFORE –  The G&S JR Theatre School present their year end production of HMS Pinafore at the Pumphouse Theatre. Buy tickets HERE!  FOH Spots still available HERE!
June 16 – Workshop with International Mask & Improv Teaching Artist Steve Jarand – details coming soon!
June 24 – Annual Appreciation BBQ (Tentative Date)
June 30 – Early Bird Deadline for 2018/2019 Subscriptions (Subscriptions forms available online May 1)
July 1 – G&S JR Registration available to the public
---
CAT NOMINATIONS –  Nominations are always open! Visit the webpage HERE!
SPACE RENTAL – Morpheus is proud to offer a variety of arts spaces at reasonable rates.  More information HERE!
WORKSHOPS – Our new(ish) Theatre Administrator, Iam Coulter has programmed a wonderful season of workshops.  More info HERE!