Welcome to Morpheus Theatre's Covid Season!
Welcome to our 26th Season of Shows Worth Seeing!  As we begin our second quarter century, we know that the season ahead will be unlike any that we have presented before. As with nearly everything this year, we will be exploring a variety of new delivery formats to meet the needs of our volunteer cast & crew and our patrons. To maintain flexibility, we will be rolling out exact information for each production throughout the year.
---
UPCOMING EVENTS!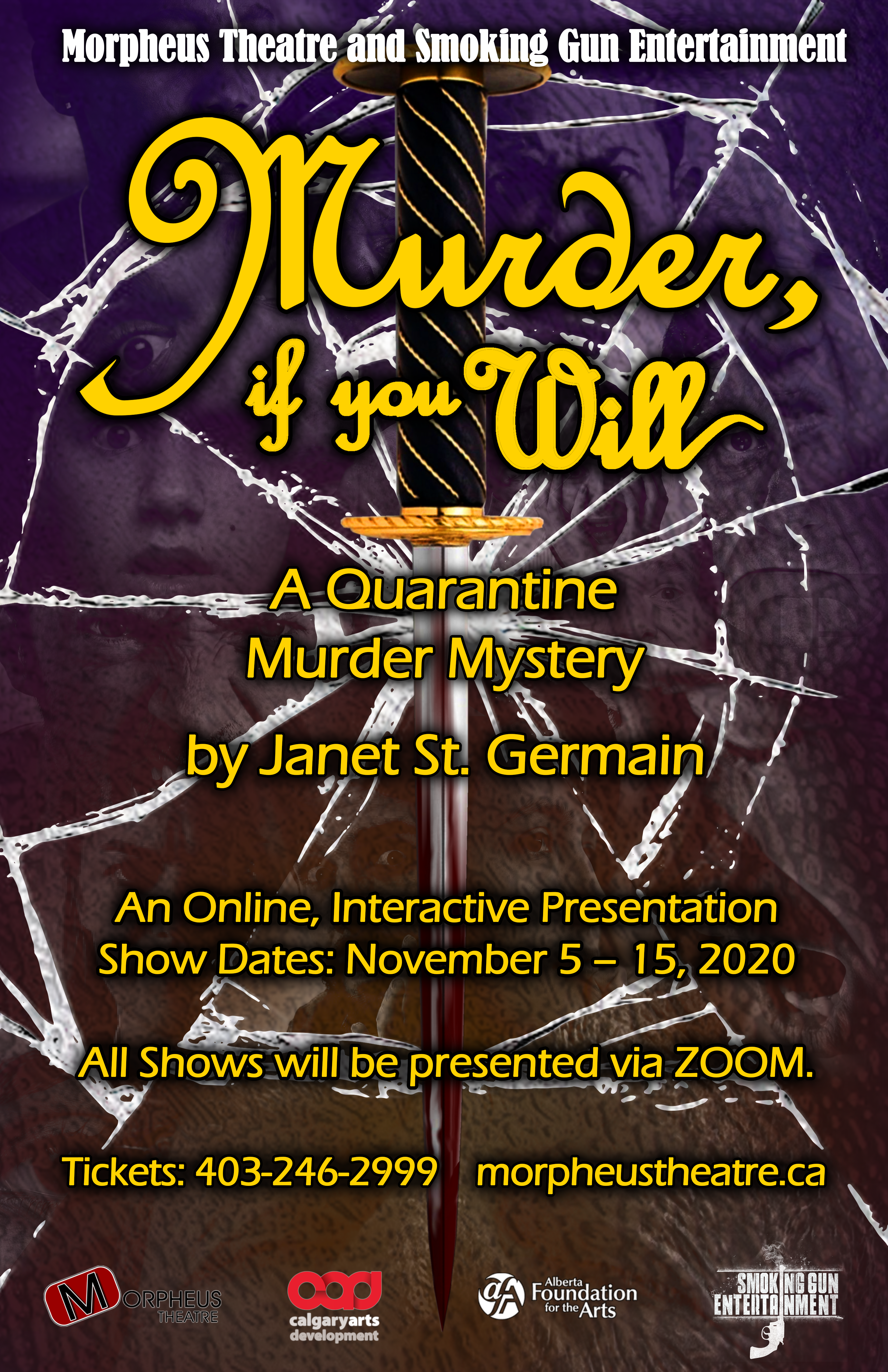 Nov 2 – AUDITION Submissions due for A Christmas Carol (A Radio Play) – Calling all performing artists! This year's Christmas family production is the classic story of A Christmas Carol, told as a radio drama onstage, complete with sounds effects and music cues. A cast of 11 performers will take on the role of nearly 50 characters.
NOV 5 – 15 – MURDER, IF YOU WILL: A QUARANTINE MURDER MYSTERY–  Nov, 2020 – Covid-19 has been a reality for nearly a year. Pharmaceutical companies are racing to develop a Rapid Testing Kit and pharmaceutical billionaire, Jack Wentworth, is found dead in his bed. Family and friends are gathered at the mansion to hear the reading of the will and figure out what happened. Buy tickets HERE
Nov 24, 26 & Dec 1 – Set Design Through the Gingerbread House with Kathryn Smith – From the first sketch to the final product, Kathryn Smith will walk workshop participants through the process of Scenic Design via Zoom. In this workshop, we will cover the early design process and work towards a 'final' model. With the holiday season upon us, participants are invited to use a gingerbread house kit to build their final set model!
Nov 28 – Online Script Reading of a Ben Crocker Pantomime – contact the office for info, or join our Facebook "Morpheus Play Reading Group"
Dec 11 – 19 – A Christmas Carol (A Radio Play) – presented live & online!
Jan 9 – G&S JR Theatre School Resumes – We hope that we are able to resume G&S JR classes in the New Year.  Currently we are only accepting students from last season.
---
NEW TICKET INFO – Online shows require one ticket per device streaming the performance. In-person shows require patrons to pre-purchase their tickets to accommodate safe seating. In-person shows will require one ticket to be purchased per patron.
SEASON TICKETS – For this season, we will not be selling subscriptions or flex passes. Click HERE for details on discounts for former Subscribers.
WORKSHOPS – We're cranking out the workshops! Stay tuned for a variety of online and safely-distanced live workshops! Information HERE
SPACE RENTAL – Yes we are open! Morpheus is proud to offer a variety of arts spaces at reasonable rates.  More information HERE!