HAPPY NEW YEAR to all our supportive Volunteers, Patrons & Renters who keep our community vibrant even during this trying time. We look forward to seeing you at the theatre! 
Goodnight Desdemona (Good Morning Juliet) Venue Change!
In response to the increasing number of Covid-19 cases being reported, Morpheus Theatre is moving Goodnight Desdemona (Good Morning Juliet) from the smaller Joyce Doolittle Theatre into the larger Victor Mitchell Theatre.  We will also be applying physical distancing between groups of patrons.  This means that the seat in front of, behind, and to the side will automatically be held and remain empty for the performance.  We will also be limiting the number of patrons attending the performance to 60 (which is 20% of the theatre's capacity).
We hope those who are comfortable will choose to join us (distanced!) at the theatre, Jan 28 – Feb 12 or online Feb 10 – 12!
UPCOMING EVENTS!
---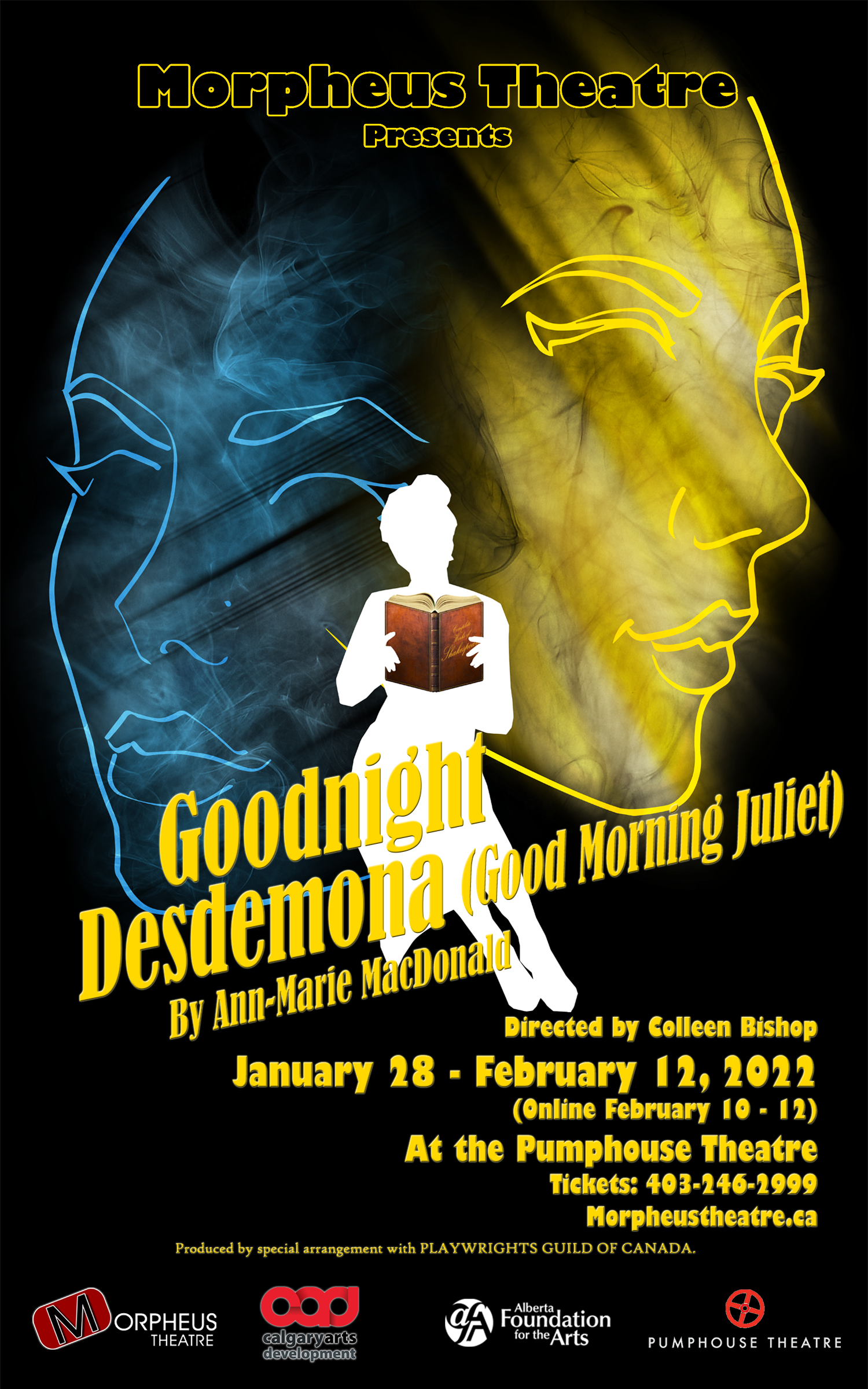 Jan 6 & 9 – The Pirates of Penzance Auditions (Select Roles only)
Jan 19 – 20 – Morpheus Theatre Casino Fundraiser- Still looking for a few back ups – sign up to volunteer!
Jan 28 – Feb 12 – GOODNIGHT DESDEMONA (GOOD MORNING JULIET) – Goodnight Desdemona (Good Morning Juliet) takes us from a dusty office in Queen's University, into the worlds of two of Shakespeare's best-known tragedies, and turns them upside-down. Constance is the beleaguered academic and unlikely heroine who embarks on a quest for Shakespearean origins and, ultimately, her own identity. Goodnight Desdemona (Good Morning Juliet) is a gender-bendy, big-hearted and crazily intelligent romp, where irony and anger sing in perfect harmony with innocence and poignancy. Tickets HERE
Feb 10 – 12 – Goodnight Desdemona (Good Morning Juliet) ONLINE – Enjoy this recorded version of our live theatre production from the comfort of your own home!
Apr 15 – 23 – WIND IN THE WILLOWS (Co-Production with Untold Stories Theatre) – Morpheus Season Subscribers get 20% off!
Apr 29 – May 14 – THE PIRATES OF PENZANCE
---
WHAT WILL OUR 28th SEASON HOLD? We are seeking experienced and passionate DIRECTORS, and we also invite the community to make proposals for SHOWS to be produced during our 2022/2023 season! We look for WELL-KNOWN SHOWS with HIGH AUDIENCE POTENTIAL that fall within our four show categories (Farce, Holiday, Contemporary, Gilbert & Sullivan). Please email letters of interest  to Sean Anderson, Artistic Director, Morpheus Theatre at info@morpheustheatre.ca
Morpheus Theatre is also looking to partner with playwrights and directors to bring their new one-act plays to next year's Calgary Region One-Act Play Festival.  Morpheus has rehearsal space, props, costumes, and mentoring available for the right project.  One-act plays should support female, non-binary and BIPOC artists.
BOOK DRIVE FUNDRAISER – Although Morpheus Theatre will not be holding a book sale this year, we are conducting a major book drive for "Books Between Friends". Donations will be accepted until Feb 14. Books may be left in the lobby of the Parkdale Community Centre on weekdays between 9 a.m. and 4 p.m., or if you are attending one of our shows, can be brought to the Pumphouse when you come to see Goodnight Desdemona (Good Morning Juliet).
SPACE RENTAL – Morpheus is proud to offer a variety of arts spaces at reasonable rates.  More information HERE!