OUR HEADS ARE SPINNING – OUR 29TH SEASON HAS STARTED WITH A SPRINT!
It's only the 2nd week of September, but it already feels like our season is racing by!  
A huge thank you to everyone who helped with our Casino Fundraiser on Aug 25 & 26. Casino Fundraisers can bring in $70,000 or more for use in putting on shows – that works out to roughly $2,000 per volunteer shift!  Also a huge congratulations to our CAT Award nominees and recipients!  Each year Calgary-ACTS presents the CAT Awards to celebrate the previous season of Community Theatre Productions and this year Morpheus was nominated in almost every category (16 of 19).  Morpheus received awards in the following Categories:
Outstanding Performance by a Supporting Role in a Musical – Ginette Simonot as Jack Point – The Yeomen of the Guard
Outstanding Performance by a Supporting Role in a Play – Faith Marie Casement as Ruth – Calendar Girls
Outstanding Costume Design – Christie Johnson – The Yeomen of the Guard
Outstanding Engineering/SFX (Musical) – Rahim Manji & Gad Gijon – R&H Cinderella (Co-Pro with Untold Stories Theatre)
Outstanding Musical Direction – Winnifred Hume – The Yeomen of the Guard
Outstanding Production of a Play – Calendar Girls
For a list of all recipients, click HERE
Pardon the Delay – Auditions are coming in October!
For those of you raring to prep those monologues, or are keen on being a part of It's a Wonderful Life: a live radio play or The Peacock Season, auditions for both shows will be coming in October! Stay Tuned!
Contract Opportunity – Music Director / Educator G&S JR
Our dear G&S JR Musical Director, Winnifred Hume, is moving on to new opportunities!  If you, or someone you know would be a good fit, please email info@morpheustheatre.ca.  For details, click HERE

UPCOMING EVENTS!
---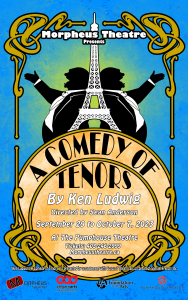 SEPT 18 7:00pm – Morpheus Theatre's Annual General Meeting – Please join us and be a part of one of Calgary's premier community theatre companies.  All are invited to join us for this meeting.  A voting membership is available for $1.00.
SEPT 24 – Intro to Stage Management & Backstage Management with Krista Willott – Come learn the ins and outs of being a Stage Manager, ASM or Running Crew in this popular Workshop!
SEPT 23 & 24 – Volunteers Needed! – Saturday Volunteers to load the trailer in Nanton (must be comfortable with heavy lifting), Sunday Volunteers to paint the set at 4pm.  Email tickets@morpheustheatre.ca to volunteer!
SEPT 29 – OCT 7 – A COMEDY OF TENORS
For the first time we are presenting a sequel. It's 1930s Paris and the stage is set for the concert of the century – as long as producer Henry Saunders can keep Italian superstar Tito Merelli and his hot-blooded wife, Maria, from causing runaway chaos. Prepare for an uproarious ride, full of mistaken identities, bedroom hijinks, and madcap delight.  This farce brings us 4 of the same characters that you loved in Lend me a Tenor. Buy tickets HERE
Oct 14 – Costume Sale at Morpheus Theatre – details coming soon
Oct 14 – G&S JR Theatre School Begins! – Spaces still available for all ages!
Oct 21 – Stage Fighting is Acting! with John Knight – In this Workshop you'll learn tips, tricks, and best practices for bringing your acting skills and training to a stage fight. All culminating in a crisp clean fight you can add to your reel.
Dec 8 – 16 – IT'S A WONDERFUL LIFE: A LIVE RADIO PLAY – Based on Frank Capra's holiday classic, a story about a radio show cast performing with a live studio audience, and live Foley sound effects. Buy tickets HERE
---
SEASON TICKETS are still on sale.  Information on our shows & packages HERE
WORKSHOPS – More workshops are coming.  Stay tuned!  Click HERE
BOOK DONATIONS – We will be conducting a book drive for the entire 2023-2024 Season.  Simply bring your gently used books to the Pumphouse Theatre when you come to any of our shows this season and deposit them into the box. Visit Books Between Friends at 3434 34th Ave NE to pick up a new book today!