SURPRISE! OUR CHRISTMAS GIFT TO YOU IS 2 EXTRA PRODUCTIONS THIS SEASON!
You may notice a few more shows on our schedule this year, as we have added 2 Co-productions to our season! 
We are excited to be teaming up with our friends at Scorpio Theatre, for Sylvia, Jan 12 – 27 and our new friends at Reflective Theatre YYC for The Rocky Horror Show, Apr 5 – 13. Both of our bonus productions will be presented at the Pumphouse Theatre, and we are offering our Season Subscribers 20% off! Tickets for both of these productions will be available Dec 1st through Morpheus Theatre.
Sylvia, Jan 12 – 27, 2024, Co-Production with Scorpio Theatre
A play by A.R. Gurney
A smart, silly, sophisticated, and occasionally salty comedy about relationships, nature, and growing older.  Greg is a man of middle age, a restless empty-nester tired of his job in finance and looking for meaning in his life. Sylvia is an exuberant lab/poodle mix, astray and looking for a new home. When they meet at the park it is love at first sight… but Greg's wife Kate is looking forward to some independence now that the couple no longer has children to care for, and is less than thrilled by the clever and coquettish canine who jumps, slobbers, sits on her couch, and takes Greg's attention away from his marriage.
The Rocky Horror Show, Apr 5 – 13, 2024, Co-Production with Reflective Theatre YYC
A musical with music, lyrics and book by Richard O'Brien
A humorous tribute to the science fiction and horror B movies of the 1930s through to the early 1960s, the musical tells the story of a newly engaged couple getting caught in a storm and coming to the home of a mad transvestite scientist, Dr Frank-N-Furter, unveiling his new creation, Rocky, a sort of Frankenstein-style monster in the form of an artificially made, fully grown, physically perfect muscle man complete "with blond hair and a tan".
UPCOMING EVENTS!
---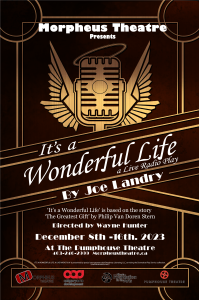 Nov 21, 22, 23 – Auditions for The Rocky Horror Show (Co-Production with Reflective Theatre YYC). Click here for more information (Scroll down!)
Dec 8 – 16 – IT'S A WONDERFUL LIFE: A LIVE RADIO PLAY
Based on the classic film by Frank Capra. This beloved American holiday classic comes to captivating life as a live 1940s radio broadcast. With the help of an ensemble that brings a few dozen characters to the stage, the story of idealistic George Bailey unfolds as he considers ending his life one fateful Christmas Eve. An inspirational, heartwarming story about giving and receiving, about life and all the paths we walk, about true and lasting love and guardian angels. Morpheus Theatre very proudly welcomes you to Bedford Falls with this holiday favourite, presented from the perspective of a radio show cast with a live studio audience, and live Foley sound effects. Buy tickets HERE
Jan 12 – 27 – SYLVIA – (A Co-Production with Scorpio Theatre) – A smart, silly, sophisticated, and occasionally salty comedy about relationships, nature, and growing older. Check out the Cast List HERE. Season Subscribers get 20% off! Tickets available Dec 1st
Jan 14 & 21 – Text Analysis Workshop with Elizabeth Stepkowski-Tarhan – On Sale soon!
Feb 2 – 17 – THE PEACOCK SEASON – Having made the mistake of marrying for love, Clarke and Cora Mariner are reminded upon renewed acquaintance with their former sweethearts, of all the riches their foolishness has denied them, and the simultaneous thought occurs to them that perhaps it's not too late to try again. But, as divorce is unthinkable in their circle, murder appears to be the only answer, whereupon they try to do away with each other; their diabolical plans goes awry to the extent of nine unintended victims. Suffice it to say that the police are as inept as the murderers, and all ends in as stylishly, and as charmingly bizarre, a fashion as it began. Buy tickets HERE
Feb 11 – Intro to Theatre Intimacy: Consent & Boundaries with Anastasia St. Amand – On Sale soon!
Apr 5 – 13 – THE ROCKY HORROR SHOW (Co-Production with Reflective Theatre YYC) – Tickets on sale Dec 1st!  Season Subscribers get 20% off.
Apr 26 – May 4 – THE GONDOLIERS
---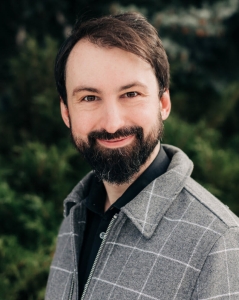 INTRODUCING OUR NEW G&S JR MUSIC DIRECTOR – Réjean Campbell
Réjean Campbell is an experienced singer, clinician and award-nominated conductor with a passion for live music and theatre. He is Artistic Director of Blend Vocal, an auditioned women's choir who focus on popular music. Réjean is also a longtime member of the Calgary Opera chorus, performing in over 20 mainstage operas since 2012. A passionate coach, Réjean loves sharing what he's learned and helping others achieve their musical goals. He's worked as a vocal educator at beloved Calgary institutions such as StoryBook Theatre and Mount Royal Conservatory. He teaches private voice lessons at Asylum for Art.
Réjean holds a Bachelor of Music from Queen's University. His mentors included Member of the Order of Canada Dr. Mark Sirett, Kenneth Kiesler, and Dr. Timothy Schantz. Réjean is an avid skier and hiker and prefers his lobster cold and al fresco.
VOLUNTEERS – We are still seeking a Lighting Designer & Hair & Make Up Designer for The Peacock Season.  If you would like to get involved with this hilarious production, email Colleen at colleen.bishop@gmail.com
BOOK DONATIONS – We will be conducting a book drive for the entire 2023-2024 Season.  Simply bring your gently used books to the Pumphouse Theatre when you come to any of our shows this season and deposit them into the box. Visit Books Between Friends at 3434 34th Ave NE to pick up a new book today!