HAPPY NEW YEAR to all our Volunteers, Patrons & Renters! We look forward to seeing you at the theatre! 
Santa Claus Came to Morpheus This Year!
Mid-December we invested in 2 new electric pianos for the Morpheus Rehearsal Centre! Many thanks to Ian Robertson at the Steinway Piano Gallery for helping us find us the perfect fit.
Our old electric pianos are still 95% functional!  If you are interested in a free piano, please call the office at 403-246-2999 or email tickets@morpheustheatre.ca. Pick up only please.
~~~~~~~~~~~~~~~~~~~~~~~~~~~~~~~~~~~~~~~~~~~~~~~~~~~~~~~~~~~~~~~~~~~~~~~~~~~~~~~~~~~~~~~~
As is tradition when a company produces Calendar Girls, our ladies of the cast & crew of Calendar Girls have put together their own "alternative" calendar! These calendars will be on sale at the theatre, and sold at intermission.  Cash, Cheque or Credit Card Accepted.  All proceeds will go to local cancer charities.
UPCOMING EVENTS!
---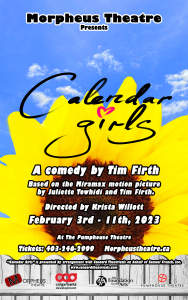 Feb 3 – 11 – CALENDAR GIRLS – When Annie's husband dies of leukemia, she and best friend Chris resolve to raise money for a new settee in the local hospital waiting room. They manage to persuade four fellow Women's Institute members to pose nude with them for an "alternative" calendar, with a little help from hospital porter and amateur photographer Lawrence. The calendar is a success, but Chris and Annie's friendship is put to the test under the strain of their newfound fame. Tickets HERE
Feb 4 – Introduction to Auditioning Workshop with Jules Orton *On sale now!
Apr 14 – 22 – CINDERELLA (Co-Production with Untold Stories Theatre) – Morpheus Season Subscribers get 20% off, call the office to claim!
Apr 16 – Intro to Theatre Intimacy: Consent and Boundaries Workshop with Anastasia St. Amand *On sale soon!
Apr 28 – May 6 – THE YEOMEN OF THE GUARD – Not sure what this Gilbert & Sullivan operetta is about?  Click HERE to find out! View the cast list HERE
May 20 – Introduction to Stage Management Workshop with Krista Willott *On sale soon!
---
WHAT WILL OUR 29th SEASON HOLD? We are seeking experienced and passionate DIRECTORS, and we also invite the community to make proposals for SHOWS to be produced during our 2023/2024 season! We look for WELL-KNOWN SHOWS with HIGH AUDIENCE POTENTIAL that fall within our four show categories (Farce, Holiday, Contemporary, Gilbert & Sullivan). Please email letters of interest to Sean Anderson, Artistic Director, Morpheus Theatre at info@morpheustheatre.ca
Morpheus Theatre is also looking to partner with playwrights and directors to bring their new one-act plays to next year's Calgary Region One-Act Play Festival.  Morpheus has rehearsal space, props, costumes, and mentoring available for the right project.  One-act plays should support female, non-binary and BIPOC artists.
BOOK DRIVE FUNDRAISER – Although Morpheus Theatre will not be holding a book sale this year, we are conducting a major book drive for "Books Between Friends". Donations will be accepted until Feb 11. Books may be left in the lobby of the Parkdale Community Centre on weekdays between 9 a.m. and 4 p.m., or if you are attending one of our shows, can be brought to the Pumphouse when you come to see Calendar Girls.
SPACE RENTAL – Morpheus is proud to offer a variety of arts spaces at reasonable rates.  More information HERE!