Don't let the clock strike midnight! Now is the time to act and grab your tickets for Rodgers + Hammerstein's Cinderella!
From the composers who brought us The Sound of Music, Rodgers + Hammerstein's Cinderella retells the classic fairy-tale in a whimsical musical adaptation. Including original songs like "In My Own Little Corner," "Impossible" and "The Stepsisters' Lament" that take us on a comedic and magical journey. Featuring familiar characters like the prince, evil stepmother, stepsisters and the fairy godmother, the story is brought to life with a new set of challenges that surround the kingdom. Join Ella and her friends as they discover the true magic of kindness and believing in all the possibilities.
Join us at the Pumphouse Theatre from April 14 – 22. Suitable for all ages.
UPCOMING EVENTS!
---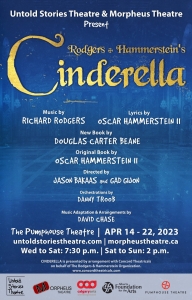 Mar 24 – 25 – Calgary Region One-Act Play Festival – Over two evenings, six one-act plays from a diverse array of local artists will be presented at the Pumphouse Theatre. From drama to comedy, new work to classics, the One Act Play Festival offers something for everyone.
Apr 14 – 22 – RODGERS & HAMMERSTEIN'S CINDERELLA – (Co-Production with Untold Stories Theatre) – This contemporary take on the classic tale features Rodgers & Hammerstein's most beloved songs alongside an up-to-date, hilarious and romantic libretto by Tony Award nominee Douglas Carter Beane.
Tickets HERE *Morpheus Season Subscribers get 20% off – call 403-246-2999 to claim
Apr 15 – Intro to Theatre Intimacy: Consent & Boundaries with Anastasia St. Amand
Apr 28 – May 6 – THE YEOMEN OF THE GUARD . Tickets HERE
May 1 & 2 – G&S Junior Presentation of The Yeomen of the Guard! Tickets on sale soon
May 20 – Introduction to Stage Management with Krista Willott
---
"CALENDAR GIRLS" CALENDARS STILL ON SALE! Our popular calendars from our hit February production are still for sale.  We have already raised $2600 for local Cancer Charities, and we hope to reach $3000! Calendars on sale for $27.50 (includes shipping) on our website or by calling 403-246-2999
WHAT WILL OUR 29th SEASON HOLD? We are seeking experienced or emerging DIRECTORS, and we also invite the community to make proposals for SHOWS to be produced during our 2023/2024 season! We are looking for WELL-KNOWN SHOWS with HIGH AUDIENCE POTENTIAL that fall within our four show categories (Farce, Holiday, Contemporary, Gilbert & Sullivan). Morpheus Theatre is also looking to partner with playwrights and directors to bring their new one-act plays to next year's Calgary Region One-Act Play Festival!
*We have special interest in supporting female, non-binary and BIPOC artists, directors and plays for projects in any of the above categories.
Please email letters of interest to Sean Anderson, Artistic Director, Morpheus Theatre at info@morpheustheatre.ca by March 31st for the 2023/2024 season, or anytime for future seasons.
COMING SOON – Our annual operetta, The Yeomen of the Guard is coming to the Pumphouse for a truncated run at the end of April! The show takes place in the Tower of London where Colonel Fairfax is wrongly accused of sorcery and sentenced to death within the hour. Fairfax hatches a plan to secretly marry a strolling singer, who now expects to be a wealthy widow upon Fairfax's imminent demise, leaving her free to marry her lover, the jester Jack Point. However, Fairfax miraculously escapes his fate and chaos ensues!