Join us for a tale of 2 love triangles, hidden identity and an execution gone awry!
Much like other Gilbert librettos, the cast of this operetta is a lovely lot – in the sense of everyone seems to be in love with one another! At the beginning of our tale, Phœbe has gained the eye of the Jailor, Wilfred Shadbolt. Wilfred, of course, has noticed who Phœbe has her eye on: Colonel Fairfax, a much grander man. Unfortunately, Fairfax will be a much less pretty picture without a head, as his execution is scheduled the same day.
Phoebe & her father hatch a daring plan involving her brother Leonard to save the Colonel, when everything is interrupted by the arrival of Jack Point and Elsie Maynard, a duo of performers. (Jack is, of course, infatuated with Elsie.) But when the Lieutenant of the tower asks if Elsie wishes to marry Fairfax to negate her family's financial strife, she agrees, believing she will be a widow immediately.
…and all that happens within the first few scenes of Act 1! You might notice a grand total of five in our lovestruck cast: Phœbe, Wilfred, Fairfax, Jack and Elsie. Five, notoriously, is not a number which couples up easily. One of this number doesn't get their happy ending – a rarity amongst Gilbert & Sullivan's works!
UPCOMING EVENTS!
---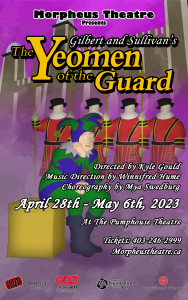 Apr 14 – 22 – RODGERS & HAMMERSTEIN'S CINDERELLA – (Co-Pro with Untold Stories Theatre) **Tues Apr 18 7:30 just added to this nearly sold out run – get your tickets before they are gone!
Apr 15 – Intro to Theatre Intimacy: Consent & Boundaries with Anastasia St. Amand – Join us to learn basic concepts and exercises to get started with safe theatre intimacy practices in your community! Only $40 for 6 hours of professional instruction.
Apr 28 – 2023-2024 SEASON ANNOUNCEMENT
Apr 28 – May 6 – THE YEOMEN OF THE GUARD – The show begins in the Tower of London where Colonel Fairfax is wrongly accused of sorcery and sentenced to death within the hour. Fairfax hatches a plan to secretly marry a strolling singer, who now expects to be a wealthy widow upon Fairfax's imminent demise, leaving her free to marry her lover, the jester Jack Point. However, Fairfax miraculously escapes his fate and chaos ensues. Tickets HERE
FOH Volunteers still needed – Sign up HERE
May 1 & 2 – G&S Junior Presentation of The Yeomen of the Guard – Our G&S Juniors have been working hard all year, and this is their opportunity to perform on the big stage! Tickets on sale soon
May 20 – Introduction to Stage Management with Krista Willott – Stage Managers are in high demand – this workshop will teach you the ins and outs of how to get started as a stage manager!
June 18 – Volunteer Appreciation BBQ – It's back after a Covid Hiatus with more information coming soon!
June 30 – Early Bird Deadline for Season Tickets
July 1 – Registration open for new Students for G&S JR
July 15 – Parkdale Community Stampede Breakfast
---
"CALENDAR GIRLS" CALENDARS STILL ON SALE! Our popular calendars from our hit February production are still for sale.  We have already raised $2600 for local Cancer Charities, and we hope to reach $3000! Calendars on sale for $27.50 (includes shipping) on our website or by calling 403-246-2999
SPACE RENTAL – Morpheus is proud to offer a variety of arts spaces at reasonable rates.  More information HERE!