Summer is nearly here, but we still have a workshop, auditions and a BBQ to go!
If you saw great work at our recent presentation of PRINCESS IDA (or any of our shows this year), we encourage you to nominate a performer, director or designer in recognition. Click HERE to honour our volunteers.
---
ANNOUNCING OUR 25th SILVER SEASON of Shows Worth Seeing!
Lend Me A Tenor – September 27 to October 5, 2019, By Ken Ludwig
Miracle on 34th Street – December 6 to 14, 2019, Adapted from the novel by Valentine Davies. Based on the 20th Century Fox movie Miracle on 34th Street
The Graduate – January 31 – February 15, 2020, Adapted by Terry Johnson, based on the novel by Charles Webb & the screenplay by Calder Willingham & Buck Henr
The Pirates of Penzance –  May 1 – 16.  2020, By W.S. Gilbert and Arthur Sullivan
**Directors will be announced soon!
---
UPCOMING EVENTS!
June 8 –Masks In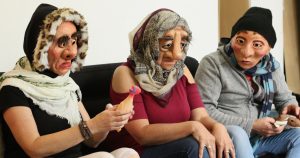 side and Out with Steve Jarand – We all hide behind different versions of ourselves. The roles we play are temporary masks we wear. These masks help us navigate through our lives, yet revealing what lies underneath may feel too personal. But if we wear a real mask and play the game of disguise, honest expression turns our self-consciousness into an adventure. Showing something genuine from inside feels like a universal truth. It is a joy for us, and a gift to the audience. Fabulous Value!
June 9, 2:00 – 4:00 – Annual Appreciation BBQ – Join us for an afternoon of FREE BBQ, door prizes, socializing, and show reminiscing all hosted by our wonderful Board of Directors!  Show mementos will be available for pick up (cast photos, etc).  There will also be information on our new season, and how to get involved. At Home at Morpheus, 3512 5 Avenue NW
June 18, 19, 20 – Auditions for LEND ME A TENOR – More information coming soon!
June 22, 23 – Casino Fundraiser – Every 18 months or so the Alberta Government grants Morpheus Theatre a license to hold a casino as a fundraiser! These casinos bring in up to $70,000 or more for our use in putting on shows.  To make these casinos work we need to fill some 36-38 shifts – at roughly $2,000 per volunteer shift, this can be a great way to support Morpheus! If you would like to volunteer to be a BACK UP for shift or two, please sign up HERE!
June 30 – Early Bird Deadline for Silver Season Tickets – Download the order form HERE
July 1 – G&S JR Open Registration Begins – Students from the 2018-2019 year can re-register by calling the office at 403-246-2999 or emailing tickets@morpheustheatre.ca
July 31 – Early Bird Deadline for G&S JR Registration 
August 24 – Cat Awards Gala – Another year, another party! Have you nominated your favorites? www.calgary-acts.com
August 30, 31 & Sept 1 – Books Between Friends Fundraiser – IS BACK!  Morpheus Now accepting donations at our Home in Parkdale, 3512 5 Avenue NW
Sept 17, 21, 22 – Auditions for MIRACLE ON 34TH STREET – More information coming this summer!
September 27 – October 5 – LEND ME A TENOR
---
CAT NOMINATIONS –  Nominations are always open! Visit the webpage HERE!
G&S SINGERS ON HIATUS – Our recreational community chorus has decided to take a break while we prepare for Ida. For questions, please contact the office.
RENTAL CHANGES COMING JULY 1 – In order to continue to provide quality, low cost rental space, we will be streamlining our rental process.  Stay tuned!
---
https://www.morpheustheatre.ca/morph_wp/wp-content/uploads/2019/04/720143.jpg
236
236
Ginette
https://www.morpheustheatre.ca/morph_wp/wp-content/uploads/2013/09/MorpheusTheatre_logo.png
Ginette
2019-05-31 16:37:48
2019-05-31 18:07:59
Presenting our SILVER SEASON and Summer Schedule!