We are exciting to be supporting a brand new company this year with their very first production in Calgary! 
Join your favourite woodland creatures in the musical adaption of The Wind in the Willows, co-produced by Untold Stories Theatre and Morpheus Theatre. Following the classic tale by Kenneth Grahame, take a journey with River-Bankers Rat and Mole as they adventure down the river and meet their quirky friend Toad, whose insatiable need for speed causes much dismay. But that's not the only trouble afoot, the pesky Wild Wooders are scheming up new ways to have Toad Hall all to themselves! See how Badgers, Hedgehogs and Otters (oh my!) come together in friendship to save the day.
UPCOMING EVENTS!
---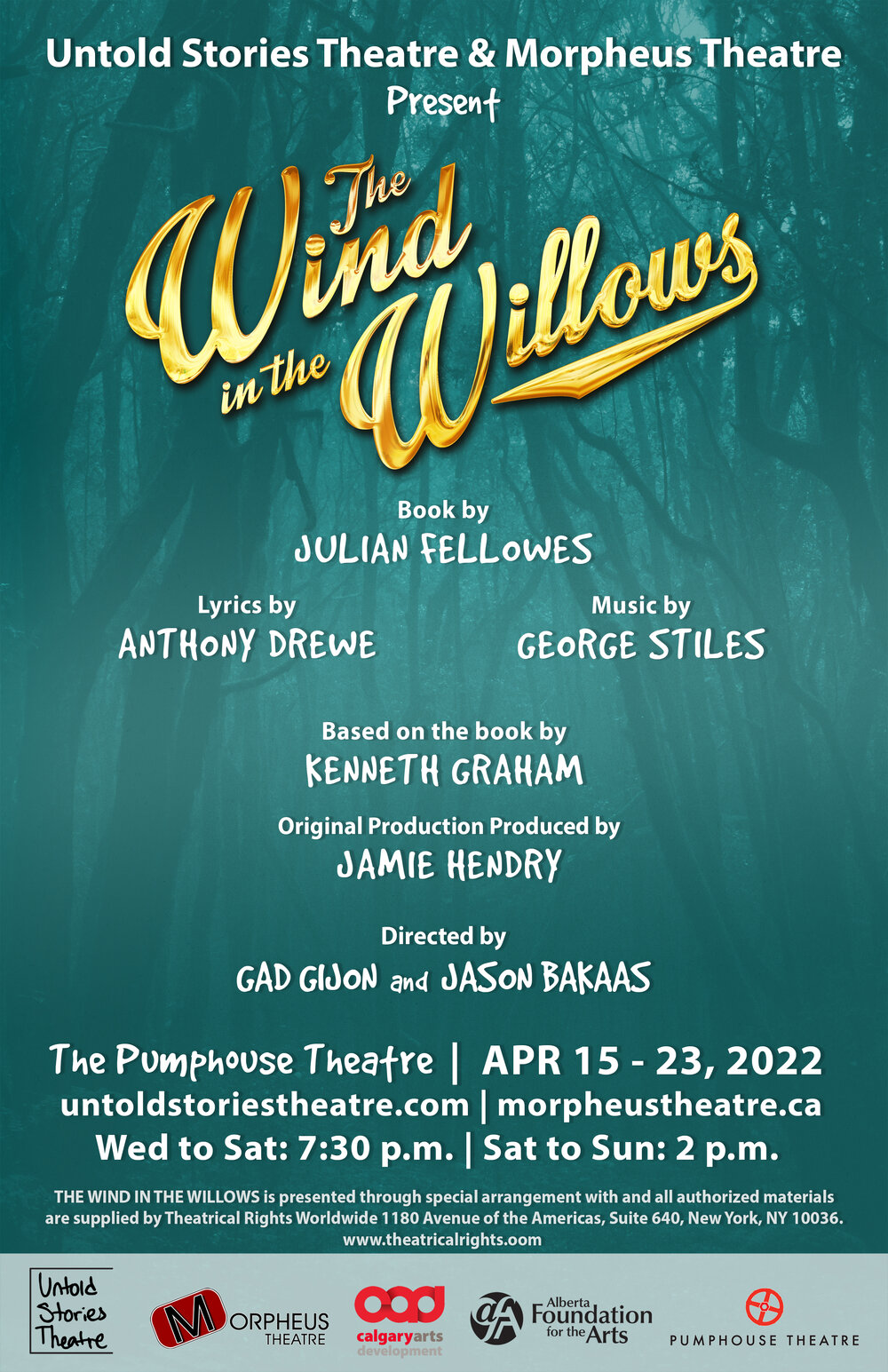 Apr 15 – 23 – THE WIND IN THE WILLOWS – (Co-Production with Untold Stories Theatre) – Based on Kenneth Grahame's best-selling classic, full of humor, wit, a gorgeous, soaring score, and heartwarming lessons of friendship, THE WIND IN THE WILLOWS is the perfect fit for audiences everywhere. Tickets HERE *Morpheus Season Subscribers get 20% off!
Apr 29 – May 14 – THE PIRATES OF PENZANCE Tickets HERE
May 7 – Jun 25 – Writing a One Act Play workshop – 8 week Course with Caroline Russell-King, who has been produced many times at Lunchbox Theatre, Canada's longest running lunchtime one act theatre. Learn how to write your comedy or dramatic opus. Caroline was also a dramaturg for Lunchbox Theatre and Literary Manager, so she knows about play development there! Caroline also has a published trilogy of one act plays and will help you get a plan to yours published and produced as well. Join us we are friendly and inclusive! Registration opens next week!
May 10 – G&S Junior Presentation of The Pirates of Penzance! Tickets on sale soon!
May 12 – 14 – The PIRATES OF PENZANCE ONLINE – Enjoy this recorded version of our live theatre production from the comfort of your own home!
---
WHAT WILL OUR 28th SEASON HOLD? We are seeking experienced or emerging DIRECTORS, and we also invite the community to make proposals for SHOWS to be produced during our 2022/2023 season! We are looking for WELL-KNOWN SHOWS with HIGH AUDIENCE POTENTIAL that fall within our four show categories (Farce, Holiday, Contemporary, Gilbert & Sullivan). Morpheus Theatre is also looking to partner with playwrights and directors to bring their new one-act plays to next year's Calgary Region One-Act Play Festival!
*We have special interest in supporting female, non-binary and BIPOC artists, directors and plays for projects in any of the above categories.
Please email letters of interest to Sean Anderson, Artistic Director, Morpheus Theatre at info@morpheustheatre.ca by March 31st for the 2022/2023 season, or anytime for future seasons.
SPACE RENTAL – Morpheus is proud to offer a variety of arts spaces at reasonable rates.  More information HERE!
COMING SOON – Our twice postponed gender-swapped production of The Pirates of Penzance is coming to the Pumphouse at the end of April! You won't want to miss this version, where Abel falls in love with Frederique, the matronly Major General corrals her strapping young wards, and the Pirate Queen and her lady pirates swashbuckle their way through "Cat-Like Tread". Oh, and did we mention? Our full orchestra has returned in belated celebration of our 25th Anniversary!