Our postponed gender-swapped production of The Pirates of Penzance is finally here!
You won't want to miss this version, where Abel falls in love with Frederique; the matronly Major General corrals her strapping young wards; and the Pirate Queen and her lady pirates swashbuckle their way through "Cat-Like Tread". Oh, and did we mention? Our full orchestra has returned in belated celebration of our 25th Anniversary!
UPCOMING EVENTS!
---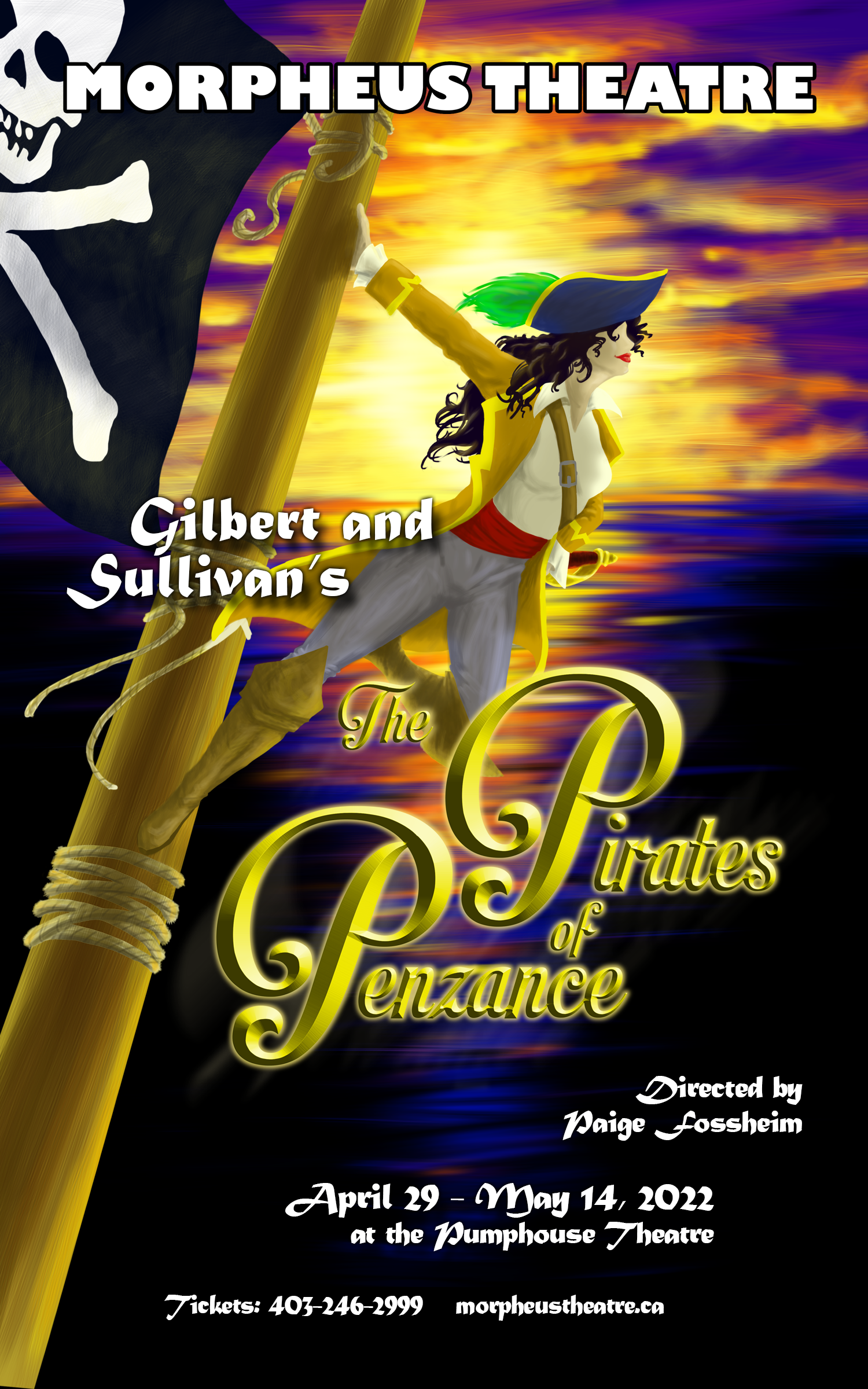 Apr 15 – 23 – THE WIND IN THE WILLOWS – (Co-Production with Untold Stories Theatre) – Tickets HERE *Morpheus Season Subscribers get 20% off – call 403-246-2999 to book!
Apr 29 – 2022-2023 SEASON ANNOUNCEMENT
Apr 29 – May 14 – THE PIRATES OF PENZANCE –  Strike up the band for one of Gilbert and Sullivan's most beloved operettas! The Pirates of Penzance combines whimsy, light-hearted satire and piratical characters with stirring music, including the iconic "Major-General's Song". This is the play that cemented the comic-pirate theme in popular culture, a theme that has lasted through more than a century and spawned countless movies and novels. Jam-packed with sentimental, swashbuckling pirates, a completely dotty Major General and a bumbling bunch of hopeless but hilarious policemen, what could possibly go wrong?  Tickets HERE
FOH Volunteers still needed – Sign up HERE
May 7 – Jun 25 – Writing a One Act Play Workshop – 8 week Course with Caroline Russell-King, Saturdays 2 – 4pm. Register HERE!
May 10 – G&S Junior Presentation of The Pirates of Penzance – Our G&S Juniors have been working hard all year, and this is their opportunity to perform on the big stage! Tickets on sale soon.
May 12 – 14 – The PIRATES OF PENZANCE ONLINE – Enjoy this recorded version of our live theatre production from the comfort of your own home! Book ONLINE tickets HERE
---
SPACE RENTAL – Morpheus is proud to offer a variety of arts spaces at reasonable rates.  More information HERE!
ONE ACT PLAY WORKSHOP – Come and join playwright, Caroline Russell-King, who has written 31 plays and been produced over 60 times in Canada and the USA. Calgary. Learn how to write your comedy or dramatic opus. Caroline is also a professional dramaturg and has worked as Literary Manager, so she knows about play development. Caroline also has a published trilogy of one act plays and will help you get a plan to get yours published and produced as well. Join us we are friendly and inclusive! Register HERE!