Welcome to Morpheus Theatre's 25th Anniversary "Silver Season"!
As we are about to launch into the craziness of another theatre season, we would like to thank all of you – patrons, volunteers, and supporters – for engaging with us in our shared passion of creating Shows Worth Seeing.  We know your time is valuable, and we thank you for sharing it with us.
We would like to congratulate all recipients & nominees of this year's Cat Awards! The community came out to celebrate in style the dedication and passion of all community theatre volunteers on August 24 at the Rozsa Centre. Special Congratulations goes to our Shakespeare in Love team who received the award for Outstanding Production of a Play and acting awards for Caleb Gordon and Trevor Matheson in their respective categories! See the complete list of recipients HERE.
Also a HUGE thank you to everyone that made our Annual Booksale Fundraiser over the Labour Day long weekend a success!  We raised almost double the usual amount!  Thank you thank you thank you!
---
UPCOMING EVENTS!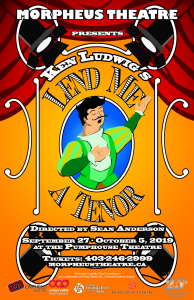 Sept 9, 7:00 pm –Annual General Meeting  for Morpheus Theatre (at the Morpheus Rehearsal Centre 3512 5 Avenue NW)
Sept 17, 21, 22 – AUDITIONS for MIRACLE ON 34th STREET – Calling all performing artists!  Morpheus Theatre is proud to present this Christmas Classic! When Kris Kringle, a nice old man from a retirement home gets a job working as a Christmas Santa at Macy's, his honest and generous spirit unleashes waves of good will throughout New York City, and a hint of magic in the heart of a very practical little girl. Share this perennial holiday favorite with the entire family this season!
SEPTEMBER 27 – OCTOBER 5 – LEND ME A TENOR–  It's the biggest night in the history of the Cleveland Grand Opera Company! The world-famous Tenor, Tito Merelli, is set to appear as the star of the opera at the gala season opener but he arrives late, and through a hilarious series of mishaps, he is given a double dose of tranquilizers and passes out. In a frantic attempt to save the evening and fool the audience, Tito is replaced by Max, an assistant with little stage training… But when the real Tenor suddenly awakens and gets into costume, the chaos of mistaken identities, mixed signals and misunderstandings has everyone scrambling! Buy tickets HERE
Sept 28 –Teen Shakespeare with Iam Coulter – Back to School Shakespeare – for TEENS! A crash course for teens on diving into Shakespeare plays in ways that are dynamic, playful and totally desk free! Get a jump-start on understanding some of Shakespeare's most well-loved plays before they come up in your classroom. Participants will interact in playful ways that: awaken the emotional, imaginative and physical worlds of the play, explore heightened language, rhetorical devices and verse structure, inspire personally connected and intellectually dynamic performances.
EARLY OCT – AUDITIONS for THE GRADUATE – sign up coming soon!
Oct 12 – G&S JR Theatre School Begins! Both Classes are full once again.  Thank you for your support.
---
SEASON TICKETS are still on sale. Help us reach 400 for our 25th! Information on our shows & packages HERE
WORKSHOPS – A full season of awesome workshops is in the works! Information HERE
SPACE RENTAL – Morpheus is proud to offer a variety of arts spaces at reasonable rates.  More information HERE!
https://www.morpheustheatre.ca/morph_wp/wp-content/uploads/2019/08/tenor-web-banner-1.png
300
1040
Ginette
https://www.morpheustheatre.ca/morph_wp/wp-content/uploads/2013/09/MorpheusTheatre_logo.png
Ginette
2019-09-03 16:01:10
2019-09-03 16:24:43
Welcome to Morpheus Theatre's 25th Anniversary "Silver Season"!