Upcoming in our 25th Anniversary "Silver Season!"
December is right around the corner, and at this point in the year, the theatre season is well under way! Between G&S JR, Workshops, Auditions and Performances, we have plenty going on at Morpheus these days!
Don't forget that GIFT CERTIFICATES make a great holiday gift, and are redeemable for Tickets OR Workshops!
Last month, on Nov 10th, participants braved the winter storm, travelling from as far as Lethbridge, to join us for the latest offering in our workshop series – An Introduction to the Chekhov Acting Technique led by the wonderful instructor Arlene Irwin!
HAVE YOU HEARD?
Morpheus Theatre is seeking experienced and passionate DIRECTORS for our 2020/2021 season!  Details HERE
Applicants are asked to submit a letter of interest and a resume with related theatre experience/background to info@morpheustheatre.ca. Applicants do not need to submit for a specific show.
---
We also invite the community to make proposals for SHOWS to be produced during our 2019/2020 season.
We are looking for WELL-KNOWN SHOWS with HIGH AUDIENCE POTENTIAL that fall within our four show categories.  Ideally, the shows will appeal to a wide family audience (primarily 12 and up, although under 18 is not the target audience).
Please email letters of interest by December 31, 2019 to Sean Anderson, Artistic Director, Morpheus Theatre at info@morpheustheatre.ca
---
UPCOMING EVENTS!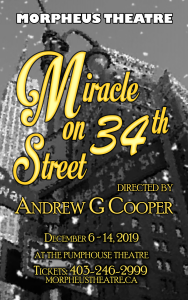 DECEMBER 6 – 14 – MIRACLE ON 34TH STREET – When Kris Kringle, a nice old man from a retirement home gets a job working as a Christmas Santa at Macy's, his generous spirit unleashes waves of good will throughout New York City. This holiday tale is one we want to believe in, where love, decency, and generosity of spirit are their own rewards. Share this perennial holiday favorite with the entire family this season! Buy tickets HERE!
December 14 – Last day of G&S JR Theatre School before holidays!
December 31 – Deadline for Submitting to Direct a show for 2020-2021. Click HERE for details.
January 4 – G&S JR Theatre School RESUMES
January 7, 9, 12 – AUDITIONS for THE PIRATES OF PENZANCE – Strike up the band for one of Gilbert and Sullivan's most beloved operettas! Jam-packed with swashbuckling pirates, a dotty Major General and a bumbling bunch of policemen, what could possibly go wrong?  To add to the topsy-turvy nature of G&S, Morpheus will be flipping the genders of all your favourite characters. Directed by Paige Fossheim, Music Direction by Stefanie Barnfather, Choreography by Karen Iwanski
JANUARY 31 – FEBRUARY 15 – THE GRADUATE – Thank you to everyone who auditioned! Check out the cast HERE
---
SEASON TICKETS are still on sale. Help us reach 400 for our 25th! Information on our shows & packages HERE
CAT NOMINATIONS –  Nominations are always open! Visit the webpage HERE
WORKSHOPS – Iam Coulter, our Workshop Director is preparing an exciting season of workshops! Check for updates HERE